The New Balance Restricted Substance Program is designed to protect the environment where we make our products, the health of workers in those manufacturing facilities, the health of our consumers, and our brand integrity. It applies to all footwear, apparel, accessories and equipment that New Balance makes (both in our own factories and our contract factories) as well as to all products made by our licensees.
OUR PROGRAM COVERS FOUR CORE ELEMENTS
Restricted Substances Manual and Audits
Product Chemistry Training
Restricted Substances List (RSL) Certification
Product Safety
All New Balance footwear is polyvinylchloride (PVC)-free and we prohibit the presence and/or use of toluene in raw materials or manufacturing. We also encourage suppliers to bring safer, alternative materials and chemicals to us proactively and implement continuous improvement programs around chemical safety.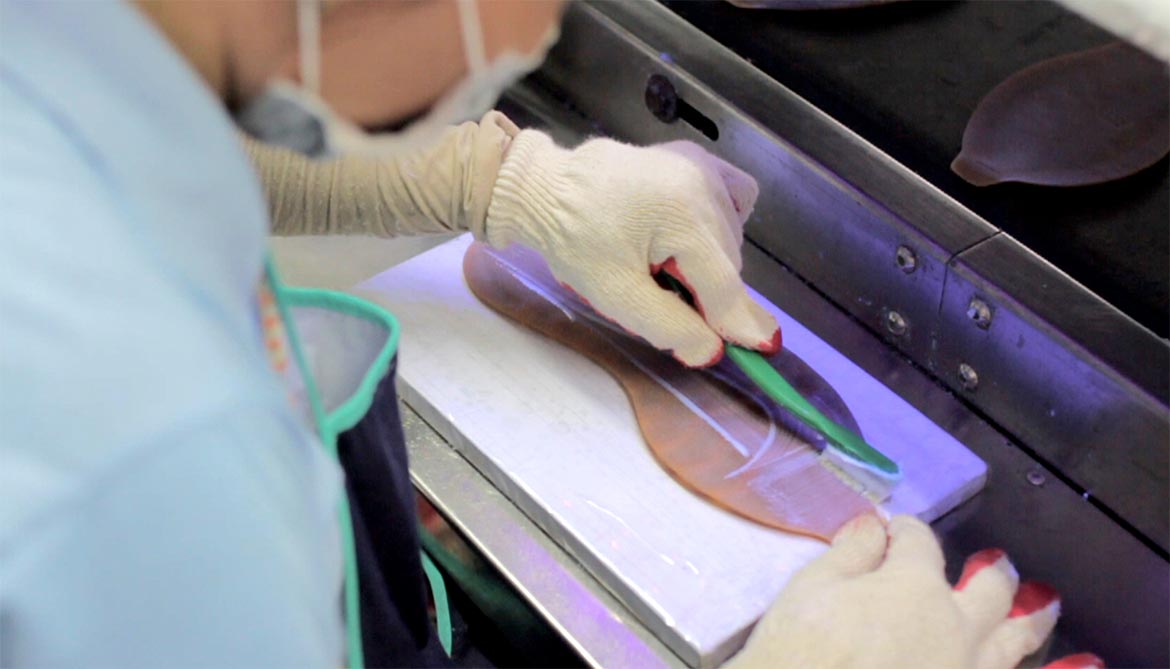 The core of our program is the New Balance Restricted Substances Manual (RSM) that enables our suppliers to make safer and more sustainable chemistry choices. The RSM prohibits some chemicals, sets limits for others, and specifies testing requirements and methods that our suppliers must use to demonstrate they are complying with New Balance requirements. We update the RSM annually to ensure that materials and methods used in our manufacturing comply with the strictest global requirements (RSM Summary of Changes). The Manual covers more than 380 chemicals and incorporates legislation and regulations covering the US, Europe, Japan, China and other countries, along with California's Proposition 65.
The RSM is incorporated into New Balance supply agreements. Factories and suppliers are also required to sign a written acknowledgement of the RSM and maintain a Chemical Information List (CIL) itemizing the chemicals used in the facility. Suppliers must also submit products for regular testing conducted by third-party laboratories. Each year, our Product Chemistry team also conducts audits in selected footwear factories and subcontractors to ensure chemical compliance with the RSM.
If products are found to contain a restricted substance, the Product Chemistry team works with suppliers to identify the root cause of the chemical failure. Changes or replacements must be made before the product can be sold.
ZDHC Manufacturing Restricted Substances List
In April 2013, New Balance joined the Zero Discharge of Hazardous Chemicals (ZDHC) Roadmap to Zero Programme – a coalition of major apparel and footwear brands and retailers that are committed to lead the industry towards zero discharge of the industry's most hazardous chemicals. ZDHC has put forth a roadmap that demonstrates the collaborative efforts of the organization and how ZDHC contributors intend to lead the apparel and footwear industry towards better chemical management.
New Balance played a leadership role in helping ZDHC develop the ZDHC Manufacturing Restricted Substances List (ZDHC MRSL) and Conformity Guidance. Where the New Balance Restricted Substances List is specific to chemistry found within the final product, the ZDHC MRSL addresses a broader set of chemicals that might be present in the manufacturing environment. The ZDHC MRSL is a list of chemical substances banned from intentional use in facilities that process textile materials and trim parts in apparel and footwear. The ZDHC MRSL establishes acceptable concentration limits for substances in chemical formulations used within manufacturing facilities. These limits are designed to eliminate the possibility of intentional use of listed substances. The intent of the ZDHC MRSL is to manage the input of chemicals to the suppliers and remove hazardous substances from the manufacturing process.